Sta mislite o ovome regulatoru?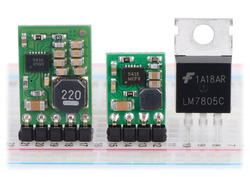 https://www.pololu.com/file/0J792/d24v5x-schematic.pdf
Quote:Features
Input voltage:
3 V to 36 V for output voltages of 1.8 V and 2.5 V
[output voltage + dropout voltage] to 36 V for output voltages of 3.3 V and higher (see below for more information on dropout voltage)
Fixed 1.8 V, 2.5 V, 3.3 V, 5 V, 6 V, 9 V, 12 V, or 15 V output (depending on regulator version) with 4% accuracy
Maximum output current: 500 mA
Typical efficiency of 80% to 93%
500 kHz switching frequency (when not in power-save mode)
200 μA typical no-load quiescent current
Integrated over-temperature and over-current shutoff
Small size: 0.5″ × 0.4″ × 0.1″ (13 mm × 10 mm × 3 mm)
Ja trazim neko "solidno" resenje za napajanje 3.3V koje ce se napajati sa 3.7V Lithium_ion ili LiPo battery.
Zanimaju me vasa neka iskustva sta koristite u takvim situacijama. Bitno je da ima sto manje gubitaka jer bi se radilo o prenosnim uredjajima za razna (uglavnom atmosferska) merenja.